Maya
An Augmented Reality techno opera in the ruins of the heating plant Munich-Aubing, 18th – 22nd October, 2017.
Maya is an AR techno opera composed by Mathis Nitschke. Maya blends augmented reality, storytelling, techno and opera to tell the story about a woman who is the last of a kind. Key to a digital otherworld, on a mission to rescue it from becoming extinct.
The opera took place in the ruins of a heating plant in Munich and was established through a German-Dutch collaboration. The AR was developed by Mathis Nitschke, Klasien van de Zandschulp and Luciano Pinna with illustrations by Judith Egger.
Technology
The 3D platform Unity was used to create the iOS and Android apps with. Vuforia's image targets technology provided the AR solution with extended tracking turned on, enabling a larger field of tracking. The project was running on a linux platform with a custom-made node.js server for fast socket interactions with all the connected smart phones. A simple a web-based controller page enabled transitioning between the various states of opera on all the connected apps.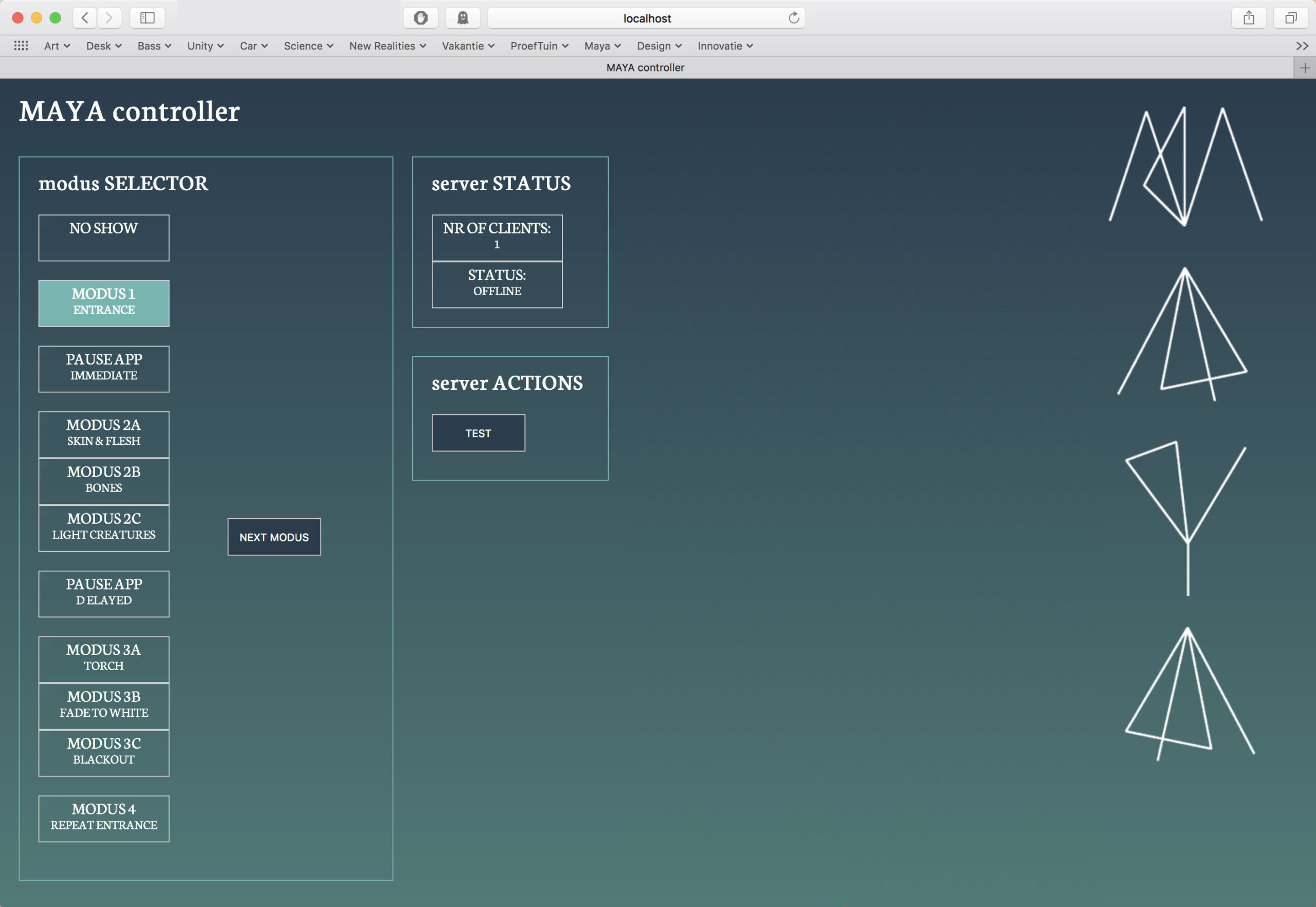 Performances
Heating Plant / Munich-Aubing, Germany / 18 to 22-10-2017.
Press
Egbert Tholl characterised Maya in the Süddeutsche Zeitung as "The beginning of the future".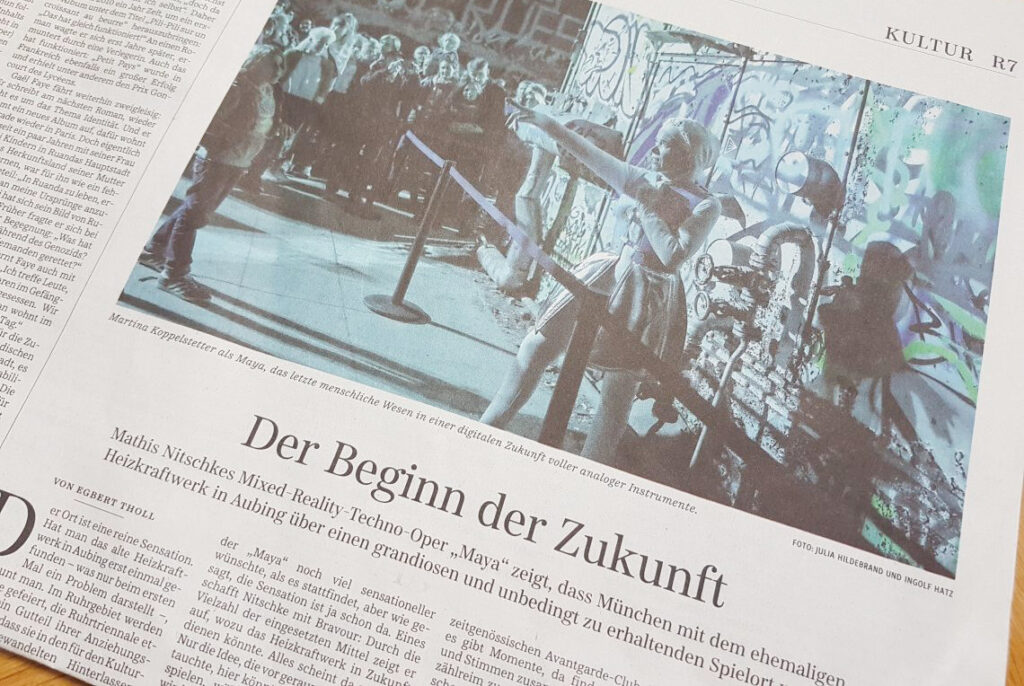 Publications
A publication discussing the production of Maya appeared in the Februari 2018 edition of Digital Production (by Björn Eichelbaum).
Credits
With:
Maya: Martina Koppelstetter
Voices: Michelle Friedrich, Miriam Hampe, Sophie Lin, Kathrin Zukowski
Musicians: TrioCoriolis (Thomas Hofer, Klaus-Peter Werani, Hanno Simons)
Libretto: Thomas Jonigk
Scenario, Music and Direction: Mathis Nitschke
Sounds: Klavikon, Björn Eichelbaum, Rumpeln, Jörg Hüttner
Light Design: Urs Schönebaum
Costume Design: Katharina Dobner
Choreography: Martina La Ragione
App Design and Programming: Klasien van de Zandschulp, Luciano Pinna
Animations based on the Aquarells "Tapete I-IV" (2012-2016) by Judith Egger
Sound: Boris Kluska
Laser: Karl-Heinz Käs
Light: Matthias Wanek
Concept and Production: Mathis Nitschke
Director and Production Assistence: Elsa Büsing
Graphic Design: Anja Gerscher
3D Scan: youlittle GmbH
PR-Redaktion: Katrin Dollinger (Rat&Tat kulturbuero)
MAYA was supported by the Cultural Department of the City of Munich, the German Fonds Darstellende Künste and the Dutch Creative Industries Fund NL. Kindly supported by the Kingdom of the Netherlands and the Bezirksausschuss 22 Aubing – Lochhausen – Langwied. Thanks to Allguth GmbH.