Pencil vs Pixel
What would the classroom of the future be like? On invitation by MU Hybrid Art House and educational institute SintLucas, Studio KNOL developed a speculative classroom experiment that researched just that. On a conceptual, social design level, and as an actual spatial, tangible experience inside a custom designed space. The experiment, Pencil vs Pixel, ran for two months with 25 students plus 1 teacher and was divided into 4 phases going from 100% analog to 100% virtual. The course taught was Conditional Design, a design method whereby design is generated by following a set of predefined rules. The students's behaviour was tracked via observations, surveys and interviews.
In the second phase of the project the first digital layer was added via augmented reality, transforming the space into one shared spacial sculptural realtime multi-user augmented reality interface. Students created their conditional design with virtual buildings blocks, only visible through their smartphone or tablet, adding the AR layer via markers to the physical architecture and creating a new environment for learn and play. Each marker had a particular predefined function attached to it, like create, duplicate, resize, rotate etc. By interacting with the markers, objects and materials are generated in the space. Once created, they could be manipulated via simple hand gestures, or by placing them on different markers. Because the markers are portable, they can be places anywhere in the room, shaping the space into a desired live installation.
The students were forced to use the classroom in its totality, manoeuvring through the space while filling it with intangible volumes, the physical and the virtual existing side by side.
Technology
A custom-made Android and iOS app was created using the native Metaio SDK and the AREL scripting language for the augmented reality. The tracking was done via Marker ID Tracking in order to achieve maximum tracking from afar while multiple markers being processed at the same time. The project was running on a LAMP platform with a node.js server in parallel for realtime multi-user interactions via sockets. Through a web-based CMS various functions could be assigned to particular markers, like generators, animators, texturizers and more. Images, 3D models, audio and even video could be added with which the augmented space could be constructed.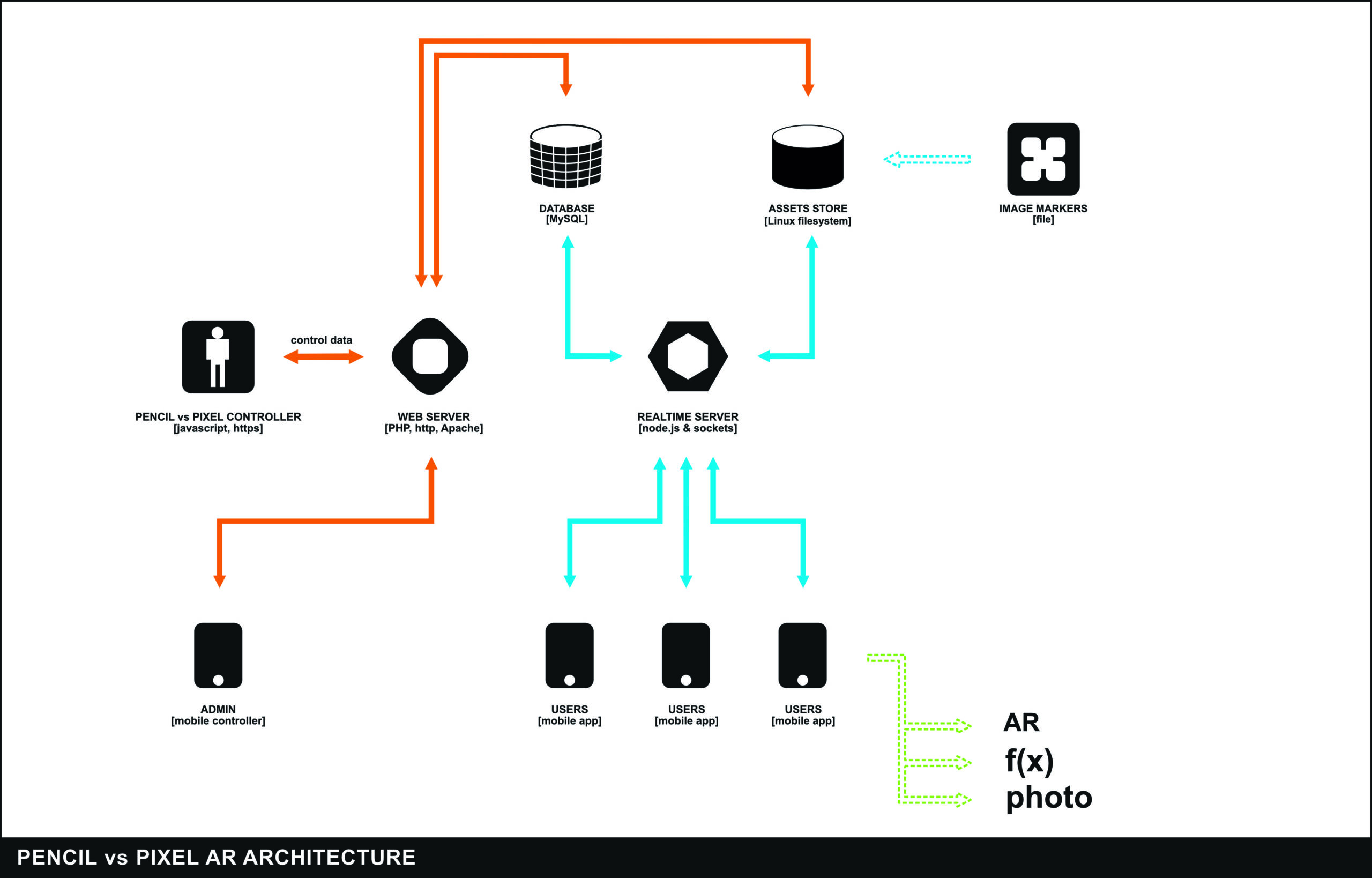 Credits
The experiment was performed by students of the SintLucas at MU Hybrid Art House art space. The augmented space was conceived by Studio Knol in collaboration with Sander Veenhof and Luciano Pinna.
Concept and Design: Studio Knol (now Studio Lonk and Jay Kay)
Design Collaboration: Christiaan Bakker
Concept and Research: Anna Dekker
AR Concept: Sander Veenhof, Luciano Pinna
AR Design and Coding: Luciano Pinna
Teacher: Pieter Van Klaveren
DSLR Photography: Corneel De Wilde
Video: Oddone
Schoolaround.Tv: Marsha Simon
Pencil vs Pixel is funded and supported by the Dutch Creative Industries Fund NL and Izivr.